Order Form

Welcome to Space In Miniature

Vacation Time!

Summer in Arizona (where I live) is nasty hot, so my wife and I will be escaping the Phoenix area for a while. Space In Miniature is a one-man business and It is not practical to take a full stock of books on our travels. So please pardon any delays in fulfilling orders for hard copy books. PDF downloads should not be a problem other than a bit of a delay for me to respond to emails for multiple downloads.


SIM 3.1 Space Shuttle is Shipping!

After building out my stash of several Buran kits early in 2020, the next logical project was to clear out my Space Shuttle kits. I decided to build some and sell the excess. As I had never done a detailed Orbiter model with an open payload bay, that would create a great opportunity to document that process and include it in an update of SIM #3 - Space Shuttle. The original edition of this booklet just had a single article (from Dave Hanners) on building a 1/144th scale space shuttle so for this update there are several more. I had long ago built a 1/72 Monogram Orbiter as Columbia, a 1/144 full stack, an Enterprise on the 747 carrier, and even a Shuttle-C. For this book, weíve got an updated version of Hannerís article, my STS-79 Atlantis at Mir, a detailed look at Dragonís 1/144 Orbiter, and a 1/72 build essay from Jay Chladek. The result is a monster book at 64 pages, even after deleting some material that became obsolete or dated.

The new book can be ordered at the order form in a printed or pdf format. A hard copy sells for $12 plus shipping, while a pdf download costs $10. A combination package of both the hard copy and digital version is available for only $15 plus shipping. Note that I am only printing 200 copies to sell so don't be left behind.

Due to the increased page count, some of the material (such as the article on EVA tools) has been moved to the an upcoming Tech Report, to be called SIM TR-5, Shuttle Payloads.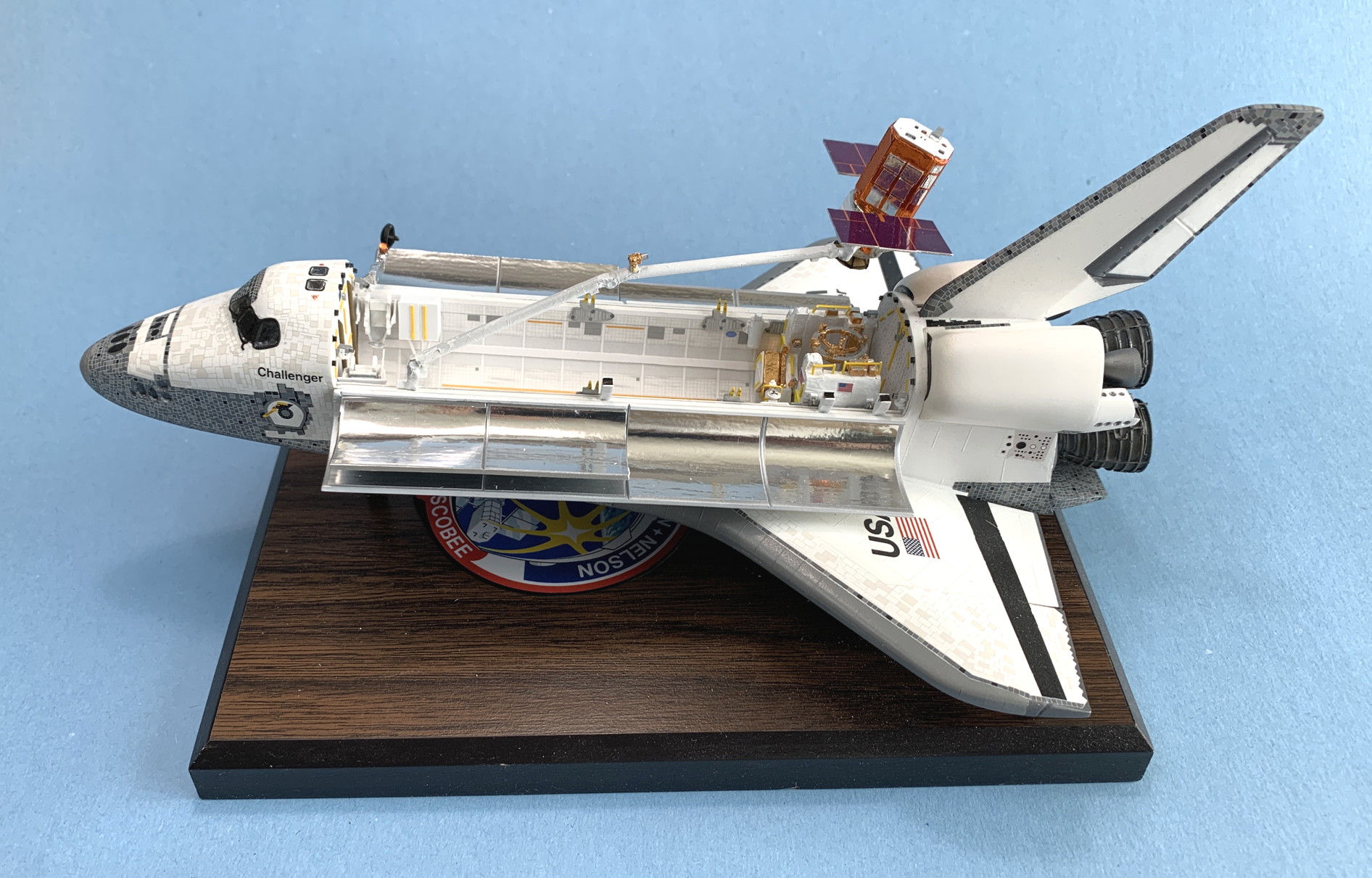 Revell 1/144 Space Shuttle orbiter finished as Challenger with the STS-41C Solar Max repair mission payload (scratchbuilt).





Space Shuttle (and more) YouTube Videos

I am now regularly posting short videos of my space modeling projects on YouTube. These are mostly work in progress videos so you can see how I build my models. Most are only about five minutes long so they won't eat up your entire day. These started with the Buran series in early 2020, and there are also my old Facebook videos on the Gemini series, as well as building the Dragon 1/72 scale Apollo "Lunar Approach" kit. The most recent additions cover building a series of Space Shuttle kits, including those featured in the new update of SIM 3.1.

You can find the videos at: https://www.youtube.com/user/spacecitymike

Stuff for Sale

As of late 2020 I have decided to sell some of my excess models and collectibles, including some models I have built. See this page for what I have available, and send me an email to get a list of the books I have for sale. I am also using a Facebook storefront to promote these sales. If you got here by that route, send me an email (see bottom of this page) with the item(s) you are interested in. You may also want to check the linked page on this website, as it may have items not on Facebook.

SIM TR-4 Energiya Buran
Late in 2019 I decided to inventory all my unbuilt kits. Earlier in that year I had completed my Gemini series of models, and I was looking for a new multi-kit project. I noticed I had quite a few Buran and Energiya kits, and decided it might make sense to build them all as a batch. The results of this series of model builds are documented for your enjoyment in the new volume of SIM Tech Reports.

This book is 31 pages long with over 70 color photos of six different kits taken as I was building them. There are also short reviews of some kits I never obtained. The pdf download is only $7 and you can get it here or via the main order form.

Paper Models: KH-9 Hexagon

I've always been fascinated with spy satellites, and the relationship to the Gemini-B / MOL program. So I have developed a 1/48th scale paper model of the NRO's Hexagon spacecraft. It is available as a free download on my paper model page. There are separate files for the model and the instructions.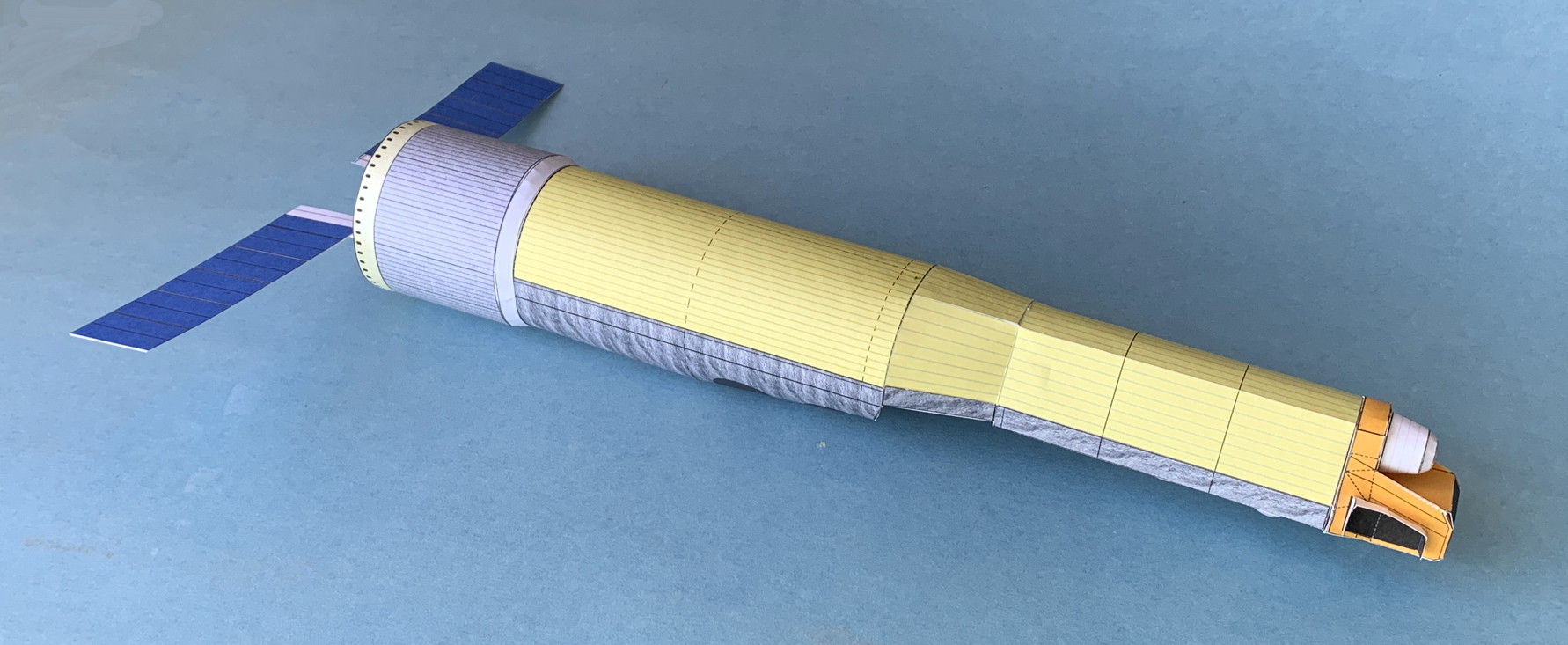 The two versions of the Mars InSight lander are the only others available right now. One version is a simple version suitable for K-12 students. Another has more detail (with smaller parts, trickier to cut and assemble) for serious hobbyists.

These models are posted as free downloads, but donations to show appreciation are always welcome. Follow this link for my paper models.

Updated SIM 7.1 - Lunar Module Now Available

In late 2019 I updated SIM 7, which was originally issued in 2007 and never updated. I was just about out of hard copies of the original print run, and there is interest in another edition. So I took the opportunity to regenerate the entire book in Apple's Pages software, as it was originally made in the obsolete Appleworks program. This allowed me to create a color pdf version and add four pages of updated kit reviews, including a close look at the Apollo kits from Dragon. I also found some errors in the Apollo 11 (LM-5) thermal blanket patterns, and those will be corrected. Both the digital pdf and hard copy (with color cover!) versions are now available (as of the end of January 2020).


SIM 9 - Building Gemini

It had been nine years since I put a new book out, and I've been busy building a series of Gemini models. These include some standard NASA versions as well as some proposed Gemini variants that never made it off the drawing board. I finally finished the models early in 2019 and have now completed writing up a description of how each one was built. While there already is a Gemini book in the Space in Miniature series, SIM #3, that volume did not have any detailed how-to articles. The results are SIM 9 - Building Gemini, the longest SIM book ever, at 72 pages (including covers). It is now available as both a hard copy and color pdf. The new book is loaded with over 200 photos of work in progress of these Gemini variants:

Gemini IV
Gemini VII
Gemini XI with Agena
Rogallo Wing Capsule
Manned Orbiting Lab (MOL)
Big G
Winged Gemini
Lunar Rescue Gemini
Gemini to Mars
A couple examples are shown in the photos below. On the left is Gemini XI with an Agena and at right is the Lunar Rescue Gemini, based on an old McDonnell study. They actually built a small cutaway model and while there are also some drawings available, there are differences. I built a version from their scale model finished as it might appear on the Moon.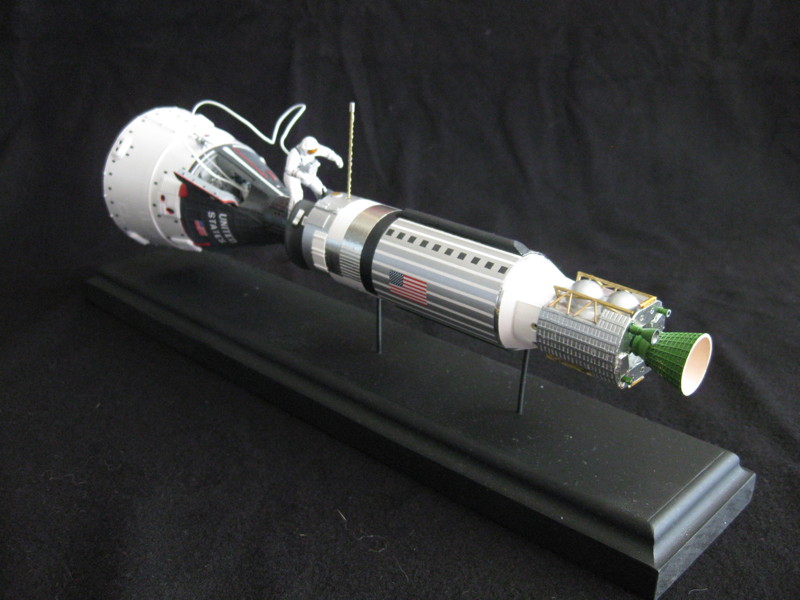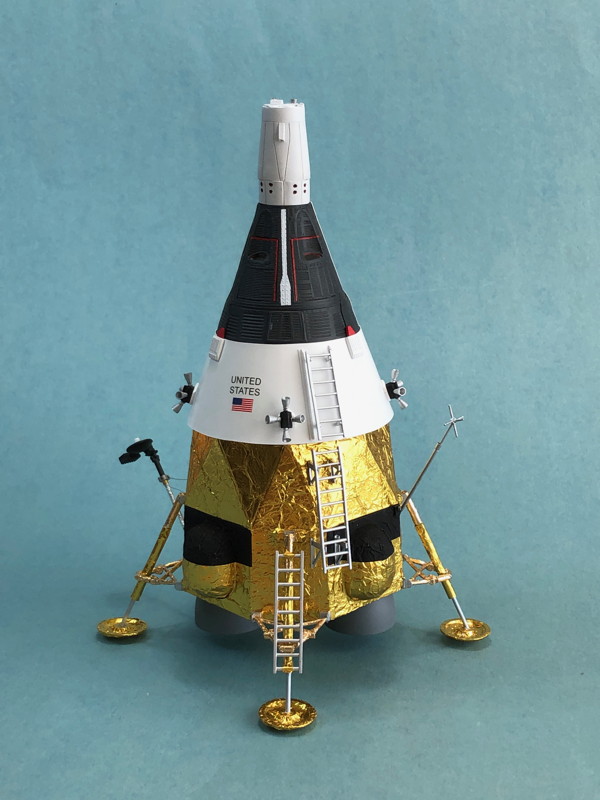 This book is printed in black and white on coated paper, and is available both as a hard copy book as well as a full-color pdf file. A hard copy of SIM #9 - Building Gemini sells for $12 plus shipping, while a pdf download costs $10. A combination package of both the hard copy and digital version is available for only $15 plus shipping. Because of the page count and the 222 color photos embedded the pdf version is a very large file. Therefore I am making available two versions to accommodate user needs. One version has the highest resolution photos and is a 787MB file. The other version has slightly reduced resolution (but still nice) photos and is a 113MB download. Both are priced the same and customers can pick the version they want.

$12.00 plus shipping for a hard copy (B&W)


$10.00 for a pdf digital download of a full color version

$15.00 plus shipping for both versions


See the order form to purchase.

Model Gallery


Photos of some of my builds can be found in the Model Gallery section of this site. Also check my Facebook page for photos of my latest model projects.